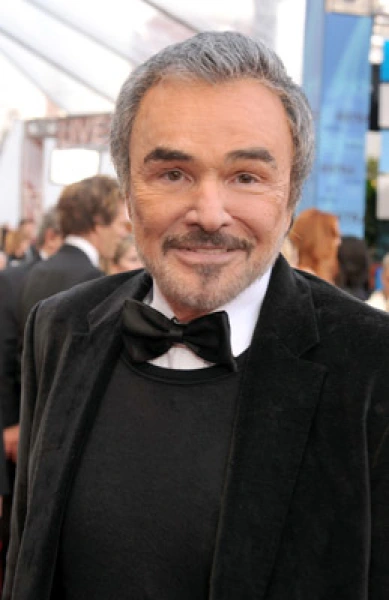 Burt Reynolds
actor, director, producer
Burt Reynolds was born on Feb 11, 1936 in USA. Burt Reynolds's big-screen debut came with Riverboat - Season 1 directed by Richard Bartlett in 1959, strarring Ben Frazer. Burt Reynolds is known for Saints Row: The Third directed by Keith Arem, Burt Reynolds stars as Burt Reynolds and Daniel Dae Kim as Johnny Gat. Burt Reynolds has got 34 awards and 31 nominations so far. The most recent award Burt Reynolds achieved is Key West Film Festival. The upcoming new movie Burt Reynolds plays is Defining Moments which will be released on Aug 27, 2021.
Enduring, strong-featured, and genial star of US cinema, Burt Reynolds started off in T.V. westerns in the 1960s and then carved his name into 1970s/1980s popular culture, as a sex symbol (posing nearly naked for "Cosmopolitan" magazine), and on-screen as both a rugged action figure and then as a wisecracking, Southern type of "good ol' boy."Burton Leon Reynolds was born in Lansing, Michigan. He was the son of Harriette Fernette "Fern" (Miller) and Burton Milo Reynolds, who was in the army. After World War II, his family moved to Riviera Beach, Florida, where his father was chief of police, and where Burt excelled as an athlete and played with Florida State University. He became an All Star Southern Conference halfback (and was earmarked by the Baltimore Colts) before a knee injury and a car accident ended his football career. Midway through college he dropped out and headed to New York with aspirations of becoming an actor. There he worked in restaurants and clubs while pulling the odd TV spot or theatre role.He was spotted in a New York City production of "Mister Roberts," signed to a TV contract, and eventually had recurring roles in such shows as Gunsmoke (1955), Riverboat (1959) and his own series, Hawk, l'oiseau de nuit (1966).Reynolds continued to appear in undemanding western roles, often playing a character of half Native American descent, in films such as Navajo Joe (1966), Les 100 fusils (1969) and Sam Whiskey le dur (1969). However, it was his tough-guy performance as macho Lewis Medlock in the John Boorman backwoods nightmare Délivrance (1972) that really stamped him as a bona-fide star. Reynolds' popularity continued to soar with his appearance as a no-nonsense private investigator in Le Fauve (1973) and in the Woody Allen comedy Tout ce que vous avez toujours voulu savoir sur le sexe... sans jamais oser le demander (1972). Building further on his image as a Southern boy who outsmarts the local lawmen, Reynolds packed fans into theaters to see him in Les bootleggers (1973), Plein la gueule (1974), W.W. Dixie (1975) and Gator (1976).At this time, ex-stuntman and longtime Reynolds buddy Hal Needham came to him with a "road film" script. It turned out to be the incredibly popular Cours après moi shérif (1977) with Sally Field and Jerry Reed, which took in over $100 million at the box office. That film's success was followed by Tu fais pas le poids, shérif! (1980) and Cours après moi shérif 3 (1983). Reynolds also appeared alongside Kris Kristofferson in the hit football film Les faux-durs (1977), with friend Dom DeLuise in the black comedy Suicidez-moi docteur (1978) (which Reynolds directed), in the stunt-laden buddy film La fureur du danger (1978) and then in the self-indulgent, star-packed road race flick L'Equipée du Cannonball (1981).The early 1980s started off well with a strong performance in the violent police film L'anti-gang (1981), which he also directed, and he starred with Dolly Parton in La cage aux poules (1982) and with fellow macho superstar Clint Eastwood in the coolly received Haut les flingues! (1984). However, other projects such as L'as de coeur (1983), Stick, le justicier de Miami (1985) and Paternity (1981) failed to catch fire with fans and Reynolds quickly found himself falling out of popularity with movie audiences. In the late 1980s he appeared in only a handful of films, mostly below average, before television came to the rescue and he shone again in two very popular TV shows, Un privé nommé Stryker (1989) and Ombre du soir (1990), for which he won an Emmy. In 1988, Burt and his then-wife, actress Loni Anderson, had a son, Quinton A. Reynolds (aka Quinton Anderson Reynolds), whom they adopted.He was back on screen, but still the roles weren't grabbing the public's attention, until his terrific performance as a drunken politician in the otherwise woeful Striptease (1996) and then another tremendous showing as a charming, porn director in Boogie Nights (1997), which scored him a Best Supporting Actor nomination. Like the phoenix from the ashes, Reynolds resurrected his popularity and, in the process, gathered a new generation of young fans, many of whom had been unfamiliar with his 1970s film roles. He then put in entertaining work in Pups (1999), Mystery, Alaska (1999), Driven (2001) and L'enfant et le loup (2002). Definitely one of Hollywood's most resilient stars, Reynolds continually surprised all with his ability to weather both personal and career hurdles and his almost 60 years in front of the cameras were testament to his staying ability, his acting talent and his appeal to film audiences.Burt Reynolds died of cardiac arrest on September 6, 2018, in Jupiter, Florida, U.S. He was eighty two.
Birthday

Feb 11, 1936

Place of Birth

Lansing, Michigan, USA
Known For
Awards
34 wins & 31 nominations
World Stunt Awards
2007
For an action movie star.
Winner
- Lifetime Achievement Award
2021

4.4

2017

5.6

2017

4.4

2017

6.9

2017

5.6

2016

actor

as Narrator (voice)

5.1

2016

6.6

2016

actor

as Seagrass Lambert

4.4

2014

5.1

2014

4.0

2011

actor

as Burt Reynolds (voice)

8.1

2011

2.6

2008

6.0

2008

actor

as Delgo's Father (voice)

4.3

2008

5.3

2007

actor

as Elmore Culpepper (uncredited)

5.7

2007

3.8

2006

5.9

2006

actor

as General Montgomery

5.1

2006

4.2

2005

actor

as Narrator (voice)

4.2

2005

actor

as Jefferson Davis 'Boss' Hogg

5.1

2005

actor

as Coach Nate Scarborough

6.4

2004

5.8

2003

actor

as Irish (uncredited)

4.4

2003

actor

as John 'Chill' McKay

5.5

2002

5.8

2002

6.7

2002

actor

as Larry J. Brodsky

6.1

2001

5.2

2001

5.2

2001

actor

as The Flamenco Manager

4.0

2001

5.5

2001

4.6

2001

3.2

2000

actor

as Joey 'Bats' Pistella

5.6

2000

6.5

1999

actor

as Det. Logan McQueen

5.1

1999

actor

as Judge Walter Burns

6.7

1999

4.5

1999

6.1

1999

actor

as Det. Logan McQueen

5.0

1998

actor, director

as Det. Logan McQueen

5.2

1998

3.0

1998

2.8

1997

7.9

1997

6.5

1997

5.2

1996

actor

as Otter Bob the Mountain Man

6.0

1996

actor

as Jerome 'Raven' Katz

4.6

1996

actor

as 'Wacky' Jacky Jackson

5.4

1996

5.0

1996

actor

as Congressman David Dilbeck

4.5

1996

7.0

1995

4.8

1995

6.6

1995

6.6

1993

actor, director, producer

as Jack Robinson

5.8

1993

4.1

1993

7.1

1993

director, actor, producer

as Wood Newton

7.0

1992

7.5

1992

director, actor, producer

as Wood Newton

7.0

1991

director, actor, producer

as Wood Newton

7.0

1990

director, actor, producer

as Wood Newton

7.0

1990

7.3

1989

6.7

1989

5.1

1989

7.3

1989

actor, director, producer

as B.L. Stryker

6.1

1989

actor, director, producer

as B.L. Stryker

6.1

1988

actor

as John L. Sullivan IV

5.9

1988

7.3

1987

5.8

1987

7.3

1987

7.6

1987

6.2

1986

actor

as Mex (as Nick Escalante)

5.6

1985

5.6

1984

5.5

1984

5.0

1983

5.2

1983

3.5

1983

4.8

1982

5.5

1982

6.0

1982

actor

as Man Walking in Front of Brewster and Lilah (uncredited)

5.9

1981

actor, director

as Sharky

6.3

1981

4.9

1981

6.2

1980

5.2

1980

5.6

1979

6.4

1978

producer, actor

as Sonny Hooper

6.4

1978

actor, director

as Wendell Sonny Lawson

6.1

1977

actor

as Billy Clyde Puckett

5.9

1977

7.0

1976

6.2

1976

actor, director

as Gator McKlusky

5.8

1976

6.7

1975

actor, producer

as Lt. Phil Gaines

6.2

1975

5.2

1975

actor

as Michael Oliver Pritchard III

5.3

1975

5.9

1974

7.1

1973

actor

as Bobby 'Gator' McKlusky

6.4

1973

6.2

1973

6.0

1972

6.7

1972

7.7

1972

actor

as Det. Steve Carella

5.4

1970

6.3

1970

5.5

1970

4.7

1970

7.2

1969

4.6

1969

5.9

1969

6.0

1966

6.3

1966

actor, director

as Detective Lt. John Hawk

6.8

1966

6.3

1965

6.3

1964

8.1

1963

8.1

1962

8.1

1961

5.1

1961

6.2

1961

actor

as Trask / Lew Johnson

8.0

1960

8.1

1960

7.4

1959

7.5