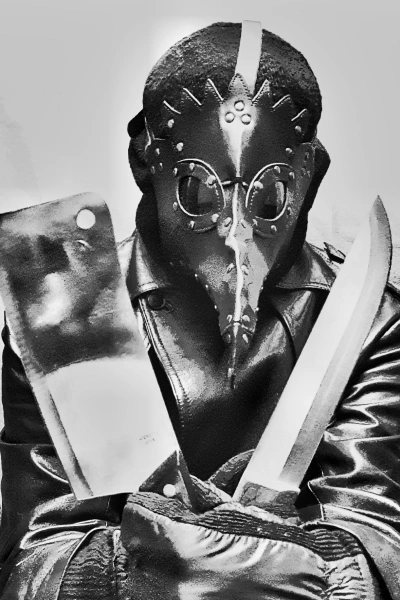 Sergey A.
writer, producer, cinematographer
Sergey A. was born on Apr 16, 1996 in Russia. Sergey A.'s big-screen debut came with Mystery of Slender Man directed by Sergey A. in 2013. Sergey A. is known for Patients ready for admission directed by Sergey A., Sergey A. stars as Plague doctor Konstantin Raven and Olga Andreenkova as Plague doctor. Sergey A. has got 2 awards and 4 nominations so far. The most recent award Sergey A. achieved is Screen Bucket Film Festival. The upcoming new movie Sergey A. plays is Unkb-002 which will be released on Jun 25, 2022.
Sergey A. was born on April 16, 1996 in Moscow, Russia. He is a writer and producer, known for Deadly Cruise (2016), Punishment (2018) and Dead man (2019).
Birthday

Apr 16, 1996

Place of Birth

Moscow, Russia
Known For
Awards
2 wins & 4 nominations
Screen Bucket Film Festival
2020
Best Short Film
Dead man (2019)
2020
Best Short Film
Dinner for Satan (2019)
2022

cinematographer, writer, producer

as Man

8.1

2022

writer, producer, cinematographer

as Plague doctor

9.2

2022

cinematographer, writer, producer

as Man

9.1

2022

producer, cinematographer, writer

as Sorcerer

9.2

2022

cinematographer, producer, writer

as Plague doctor Konstantin Raven

9.7

2022

cinematographer, writer, producer

as Plague doctor

8.9

2022

writer, cinematographer, producer

as Demon

9.4

2022

cinematographer, writer, producer

as Plague doctor

7.0

2022

8.9

2022

cinematographer, writer, producer

as Hand

9.1

2022

9.2

2022

producer, cinematographer, writer

as Man

9.8

2022

cinematographer, writer, producer

as Plague doctor

9.6

2022

cinematographer, writer, producer

as Max Fadeev

8.8

2022

cinematographer, writer, producer

as Plague doctor

9.2

2022

cinematographer, writer, producer

as Lazarus

9.0

2021

8.9

2021

9.1

2021

writer, producer, cinematographer

as Man

8.7

2021

cinematographer, writer, producer

as Ardokius

9.1

2021

cinematographer, writer, producer

as Ghost

9.6

2021

writer, cinematographer, producer

as Man

9.1

2021

cinematographer, writer, producer

as Hand

9.3

2021

cinematographer, writer, producer

as Corpse

9.0

2021

cinematographer, writer, producer

as Goodslof

9.6

2021

cinematographer, writer, producer

as Plague doctor

8.4

2021

cinematographer, writer, producer

as Man

9.8

2021

producer, cinematographer, writer

as Suspect

8.7

2021

cinematographer, writer, producer

as Sharkey

8.2

2021

cinematographer, writer, producer

as Apacius

9.2

2021

writer, cinematographer, producer

as Man

9.2

2021

cinematographer, writer, producer

as Pigeon's victim

8.8

2021

cinematographer, writer, producer

as Apacius

8.5

2021

cinematographer, writer, producer

as Man

9.2

2021

cinematographer, writer, producer

as Apacius

9.6

2021

cinematographer, writer, producer

as Apacius

8.8

2021

writer, producer, cinematographer

as Man

9.2

2021

7.9

2021

cinematographer, producer, writer

as Apacius

9.3

2021

producer, cinematographer, writer

as Narrator

8.8

2021

cinematographer, producer, writer

as Self

9.1

2021

producer, writer

as Narrator

8.4

2020

producer, cinematographer, writer

as Narrator

8.4

2020

cinematographer, writer, producer

as Broter

9.6

2020

cinematographer, writer, producer

as Agent

9.3

2020

cinematographer, writer, producer

as Pursuer

9.3

2020

cinematographer, writer, producer

9.7

2020

cinematographer, writer, producer

as Hand

9.2

2020

cinematographer, writer, producer

as Self

9.8

2020

cinematographer, writer, producer

9.2

2020

cinematographer, writer, producer

as Man in the woods

8.3

2020

writer, producer, cinematographer

as Man

9.6

2020

9.2

2020

cinematographer, writer, producer

9.6

2020

cinematographer, writer, producer

as Sorcerer

8.6

2020

cinematographer, writer, producer

as Self

9.6

2020

cinematographer, writer, producer

as Self

9.8

2020

producer, cinematographer, writer

as Hand

9.2

2020

writer, cinematographer, producer

as Man

9.3

2020

cinematographer, writer, producer

as Levitan

9.6

2020

writer, producer, cinematographer

9.6

2020

cinematographer, writer, producer

as Self

9.6

2020

cinematographer, writer, producer

as Self

9.6

2020

cinematographer, writer, producer

as Self

9.7

2020

cinematographer, writer, producer

as Man

8.9

2020

cinematographer, writer, producer

as Man

9.3

2020

writer, cinematographer, producer

as Self

9.4

2020

writer, producer, cinematographer

as Self

9.7

2020

cinematographer, writer, producer

as Self

10.0

2020

writer, cinematographer, producer

as Lead character

9.2

2020

producer, cinematographer, writer

as Shadow on the lake

7.9

2020

cinematographer, writer, producer

as Self

8.9

2020

cinematographer, writer, producer

as Narrator

8.3

2020

cinematographer, writer, producer

as Unnamed Man

9.1

2020

producer, cinematographer, writer

as Self

9.9

2020

writer, producer, cinematographer

as Concrete director

7.6

2020

cinematographer, writer, producer

as Man

8.9

2020

9.6

2020

cinematographer, writer, producer

9.4

2020

cinematographer, writer, producer

as Satan

6.2

2020

cinematographer, writer, producer

as Self

9.5

2020

cinematographer, writer, producer

as Man with toilet paper

7.0

2020

cinematographer, writer, producer

as Man

9.1

2020

cinematographer, writer, producer

as Self

9.1

2020

cinematographer, writer, producer

as Coronavirus

8.5

2020

writer, cinematographer, producer

as Self

9.9

2020

cinematographer, writer, producer

as Self

9.5

2020

cinematographer, writer, producer

9.3

2020

cinematographer, writer, producer

as Zombies

6.5

2020

cinematographer, writer, producer

as Devil

9.5

2020

9.4

2020

producer, cinematographer, writer

as Self

9.4

2020

9.6

2020

9.6

2020

cinematographer, writer, producer

as Man

8.8

2020

cinematographer, writer, producer

as Nike Ponpeo

9.1

2020

9.6

2020

cinematographer, writer, producer

as Self - Narrator

9.5

2019

cinematographer, writer, producer

as Self

9.2

2019

8.6

2019

9.7

2019

cinematographer, writer, producer

as Murderer

9.5

2019

cinematographer, writer, producer

as Creature

9.6

2019

producer, cinematographer, writer

as Man

9.0

2019

writer, producer, cinematographer

as Death

7.7

2019

cinematographer, writer, producer

as House manager

9.5

2019

cinematographer, producer, writer

as Narrator

8.9

2019

cinematographer, writer, producer

as Creature

8.9

2019

cinematographer, writer, producer

as Self

9.5

2019

writer, producer, cinematographer

as Man

9.1

2019

cinematographer, writer, producer

as Man

9.5

2019

producer, cinematographer, writer

as Shark

7.5

2019

cinematographer, writer, producer

as Narrator

9.4

2019

cinematographer, writer, producer

as Mark

7.6

2019

9.6

2019

writer, cinematographer, producer

as Human

9.4

2019

cinematographer, writer, producer

as Self - Narrator

9.2

2019

producer, cinematographer, writer

9.6

2019

producer, cinematographer, writer

as Self

9.2

2019

8.3

2019

cinematographer, writer, producer

as Self

10.0

2019

cinematographer, writer, producer

as Self

9.5

2019

8.7

2019

9.6

2019

writer, producer, cinematographer

as Self

8.5

2019

cinematographer, writer, producer

as Narrator

9.2

2019

9.2

2019

cinematographer, writer, producer

as Narrator

9.2

2019

cinematographer, producer, writer

9.3

2019

writer, producer, cinematographer

as Man soul

9.2

2019

producer, cinematographer, writer

9.5

2019

producer, cinematographer, writer

as Shark victim

6.2

2019

cinematographer, writer, producer

as Man

8.9

2019

8.3

2019

cinematographer, writer, producer

as Security

9.7

2019

8.6

2019

writer, producer, cinematographer

as Ghost

9.3

2019

cinematographer, writer, producer

as Brother #1

8.9

2019

cinematographer, writer, producer

as SCP-173

9.2

2019

9.5

2019

cinematographer, writer, producer

as Man

9.3

2019

9.6

2019

7.5

2019

writer, producer, cinematographer

as Narrator

9.3

2019

cinematographer, writer, producer

as Self - Narrator

9.6

2019

cinematographer, writer, producer

as Suicide man

8.2

2019

cinematographer, writer, producer

as Narrator

9.0

2019

cinematographer, writer, producer

as Narrator (voice)

9.4

2019

cinematographer, writer, producer

as Different characters

7.8

2019

writer, cinematographer, producer

as Doctor

8.0

2019

cinematographer, producer, writer

as Brother

9.4

2019

cinematographer, writer, producer

as Dima Maslennikov

7.6

2019

cinematographer, writer, producer

as Self

9.2

2019

writer, cinematographer, producer

as Self - Narrator

9.2

2019

writer, producer, cinematographer

as Man

8.3

2019

cinematographer, writer, producer

as Self

9.5

2019

cinematographer, writer, producer

as Ghost

8.7

2019

cinematographer, writer, producer

as Doctor

8.4

2019

cinematographer, writer, producer

as Self

9.4

2019

9.5

2019

9.0

2018

cinematographer, writer, producer

as Traveller

8.7

2018

producer, cinematographer, writer

as Judje

8.9

2018

cinematographer, writer, producer

as Demon-judje

9.1

2018

cinematographer, writer, producer

as Technician

6.3

2018

writer, producer, cinematographer

as Akhmed

8.6

2018

cinematographer, writer, producer

as Georgiy

8.6

2018

cinematographer, writer, producer

as Sergey

7.8

2018

cinematographer, writer, producer

as Russian president

8.3

2018

producer, cinematographer, writer

as Guy

8.6

2018

writer, producer, cinematographer

as Moderator

9.0

2018

cinematographer, writer, producer

as Inquisitor

9.2

2018

cinematographer, writer, producer

as Besprisornik

9.2

2018

writer, cinematographer, producer

as Narrator

8.9

2018

8.1

2018

cinematographer, writer, producer

as Tourist

9.1

2018

cinematographer, producer

as Maxim

5.9

2018

cinematographer, writer, producer

as Angel Angelov

9.0

2018

cinematographer, writer, producer

as Maxim

7.8

2018

writer, producer

as Ghost

7.8

2017

cinematographer, writer, producer

as Sergo

7.8

2017

writer, producer, cinematographer

as Vartan Vartanov

7.7

2017

producer, cinematographer, writer

as Man

7.4

2017

writer, producer, cinematographer

as Extraterrestial

7.9

2017

8.4

2017

cinematographer, writer, producer

as Sergey

7.3

2017

writer, cinematographer, producer

as Person

8.4

2017

cinematographer, writer, producer

as Man

8.9

2017

cinematographer, writer, producer

as Feofan

9.5

2017

cinematographer, writer, producer

as Mayor

8.5

2017

cinematographer, writer, producer

as Evil

9.6

2017

cinematographer, writer, producer

as Sergey Lesovoy

8.0

2017

cinematographer, writer, producer

as Matvey A. (segment "Unitaz-lyudoed")

7.3

2017

producer, cinematographer, writer

as Ripper

8.2

2017

writer, cinematographer, producer

as Victim

7.6

2017

8.7

2017

cinematographer, writer, producer

as Vote

8.2

2017

writer, producer, cinematographer

as Man in Mozhaisk

8.6

2016

7.3

2016

cinematographer, writer, producer

as Anton Alexandrov

8.6

2016

cinematographer, writer, producer

as Ivan Kuznetsov (Action Scenes)

8.4

2016

producer, writer, cinematographer

as Sergey

8.5

2016

cinematographer, writer, producer

as Man in hood

8.5

2016

cinematographer, writer, producer

as Angel Angelov

8.7

2016

cinematographer, writer, producer

as Sergey Alexandrov

8.5

2016

cinematographer, writer, producer

as Man

8.8

2016

cinematographer, writer, producer

as Man in Kizhi

9.0

2016

writer, cinematographer, producer

as Ghost

8.5

2016

producer, cinematographer, writer

as Sergey

8.2

2016

8.9

2016

writer, producer, cinematographer

as Ruslan

9.1

2016

1.4

2016

cinematographer, writer, producer

as Angel Angelov

8.7

2016

cinematographer, writer, producer

as Devil

8.4

2016

cinematographer, writer, producer

as Zombie #1

8.4

2016

writer, producer, cinematographer

as Anton

9.3

2016

7.4

2015

cinematographer, writer, producer

as Man

7.5

2015

7.8

2015

cinematographer, writer, producer

as Lyosha

8.4

2015

cinematographer, writer, producer

as Victim

8.3

2015

writer, cinematographer, producer

as Roman Smirnov

6.4

2015

writer, producer, cinematographer

as Anton

7.5

2015

cinematographer, writer, producer

as Maniac

8.0

2015

writer, cinematographer, producer

as Andrey

8.3

2015

cinematographer, writer, producer

as Stefan Kirkhe

6.3

2015

cinematographer, producer

as Anton Voloshin

5.5

2014

cinematographer, writer, producer

as The hand

8.6

2014

cinematographer, writer, producer

as Sergey

8.3

2014

writer, producer, cinematographer

as Sergey Sergeevich

7.3

2014

writer, producer, cinematographer

as Andrey

8.1

2014

cinematographer, writer, producer

as Victim

7.6

2014

cinematographer, writer, producer

as Maniac

8.3

2014

producer, cinematographer, writer

as Victim

7.7

2014

cinematographer, writer, producer

as Man

8.0

2014

cinematographer, writer, producer

as Victim

8.8

2014

writer, cinematographer, producer

as Angel

7.8

2014

producer, cinematographer, writer

as Angel

8.3

2013

writer, producer, cinematographer

as Man with camera

7.5

2013

cinematographer, writer, producer

as Sergey Aleksandrov

7.8