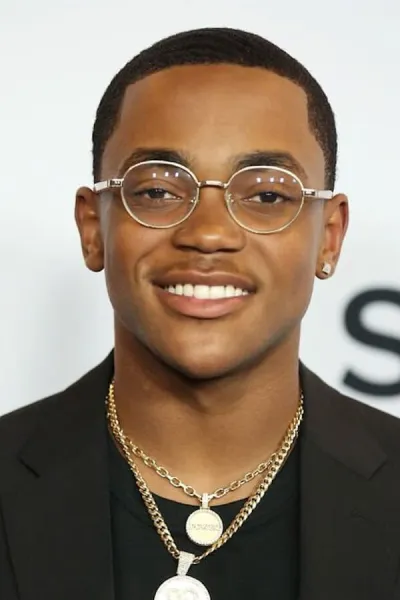 Michael Rainey Jr.
actor, producer, executive
Michael Rainey Jr. was born on Sep 22, 2000 in USA. Michael Rainey Jr.'s big-screen debut came with Un altro mondo directed by Silvio Muccino in 2010, strarring Charlie. Michael Rainey Jr. is known for Power Book II: Ghost directed by Hernán Otaño, Michael Rainey Jr. stars as Tariq St. Patrick and Shane Johnson as Cooper Saxe. The upcoming new tvshow Michael Rainey Jr. plays is Power Book II: Ghost - Season 3 which will be released on Sep 06, 2020.
Actor Michael Rainey, Jr. stars as Tariq St. Patrick on Starz network's hit drama series, Power Book II: GHOST where he leads a star studded cast a direct spin off from the hit series Power. Michael starred as Tariq St. Patrick in the hit series POWER, in a leading role alongside Omari Hardwick, Curtis "50 Cent" Jackson, and Naturi Naughton. He shot to fame at the tender age of ten, starring in the Italian film UN ALTRO MUNDO (2010), a role for which he mastered a new language and culture, and lived abroad for a year. Directed by Silvio Muccino, Michael spoke fluent Italian for the film and earned the immediate praise and attention of the industry's elite. Upon returning to the States, Michael's career took off. He made his first American film appearance in LUV (2012), starring in an all-star cast which included Common, Danny Glover. Charles Dutton, and Meagan Good. He went on to a prominent role in THE BUTLER (2013), with Oprah Winfrey, and Forest Whitaker, directed by Lee Daniels. Michael was then featured in seasons 1-3 of ORANGE IS THE NEW BLACK, and landed a starring role opposite Ice Cube, Cedric the Entertainer and Nicki Minaj in the third installment of the comedy franchise BARBERSHOP for Warner Brothers Pictures entitled BARBERSHOP 3: THE NEXT CUT. Michael also starred alongside McKinley Freeman in SECOND CHANCE CHRISTMAS (2014) for TV ONE.Next, Michael co-stars with Nicholas Cage in the bank heist thriller 211, slated for release in 2018. He's also starring in a Netflix film in connection with Mandalay Bay Entertainment entitled AMATEUR. In it, Michael plays the role of Terron Forte, a young man whose basketball highlight video goes viral, and causes quite the stir. Written and directed by Ryan Koo, a participant in the 2014 Sundance Screenwriting Lab, the movie is set to premiere in 2018. Meanwhile, in the upcoming fifth season of POWER, Michael's character Tariq emerges as a pivotal figure in the storyline, showcasing Michael's acting chops in ways no one could have predicted.In his spare time, Michael enjoys making music, playing video games, and living the life of a trendsetter for his generation. He's working on a memoir, chronicling his rise to stardom and how he has captured the hearts of fans worldwide. He gives back to his community through various philanthropic efforts, partnering with nonprofits across the country that target the homeless and impoverished communities. Michael Rainey, Jr. is an incredible example for young people of what happens when talent, humility and an incredible work ethic are brilliantly aligned.
Birthday

Sep 22, 2000

Place of Birth

Louisville, Kentucky, USA

Also known

-