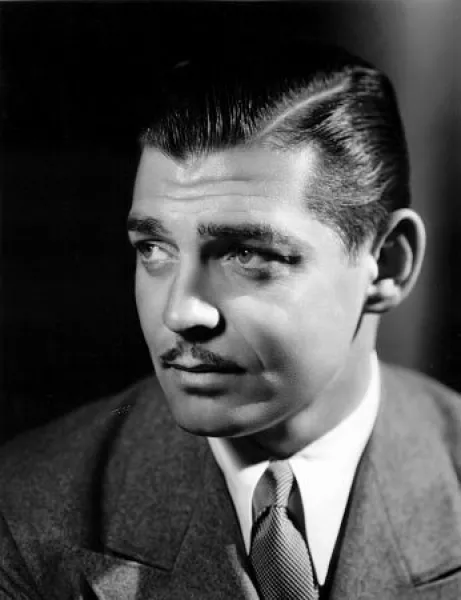 Clark Gable
actor, producer, soundtrack
Clark Gable was born on Feb 01, 1901 in USA. Clark Gable's big-screen debut came with White Man directed by Louis J. Gasnier in 1924, strarring Lady Andrea's Brother. Clark Gable is known for The Misfits directed by John Huston, Clark Gable stars as Gay Langland and Marilyn Monroe as Roslyn Taber. Clark Gable has got 4 awards and 6 nominations so far. The most recent award Clark Gable achieved is Online Film & Television Association. The upcoming new movie Clark Gable plays is Doris Day Today which will be released on Feb 19, 1975.
William Clark Gable was born on February 1, 1901 in Cadiz, Ohio, to Adeline (Hershelman) and William Henry Gable, an oil-well driller. He was of German, Irish, and Swiss-German descent. When he was seven months old, his mother died, and his father sent him to live with his maternal aunt and uncle in Pennsylvania, where he stayed until he was two. His father then returned to take him back to Cadiz. At 16, he quit high school, went to work in an Akron, Ohio, tire factory, and decided to become an actor after seeing the play "The Bird of Paradise". He toured in stock companies, worked oil fields and sold ties. On December 13, 1924, he married Josephine Dillon, his acting coach and 15 years his senior. Around that time, they moved to Hollywood, so that Clark could concentrate on his acting career. In April 1930, they divorced and a year later, he married Maria Langham (a.k.a. Maria Franklin Gable), also about 17 years older than him.While Gable acted on stage, he became a lifelong friend of Lionel Barrymore. After several failed screen tests (for Barrymore and Darryl F. Zanuck), Gable was signed in 1930 by MGM's Irving Thalberg. He had a small part in Le désert rouge (1931) with starred William Boyd. Joan Crawford asked for him as co-star in La Pente (1931) and the public loved him manhandling Norma Shearer in Âmes libres (1931) the same year. His unshaven lovemaking with bra-less Jean Harlow in La belle de Saïgon (1932) made him MGM's most important star.His acting career then flourished. At one point, he refused an assignment, and the studio punished him by loaning him out to (at the time) low-rent Columbia Pictures, which put him in Frank Capra's New York - Miami (1934), which won him an Academy Award for his performance. The next year saw a starring role in L'appel de la forêt (1935) with Loretta Young, with whom he had an affair (resulting in the birth of a daughter, Judy Lewis). He returned to far more substantial roles at MGM, such as Fletcher Christian in Les révoltés du Bounty (1935) and Rhett Butler in Autant en emporte le vent (1939).After divorcing Maria Langham, in March 1939 Clark married Carole Lombard, but tragedy struck in January 1942 when the plane in which Carole and her mother were flying crashed into Table Rock Mountain, Nevada, killing them both. A grief-stricken Gable joined the US Army Air Force and was off the screen for three years, flying combat missions in Europe. When he returned the studio regarded his salary as excessive and did not renew his contract. He freelanced, but his films didn't do well at the box office. He married Sylvia Ashley, the widow of Douglas Fairbanks, in 1949. Unfortunately this marriage was short-lived and they divorced in 1952. In July 1955 he married a former sweetheart, Kathleen Williams Spreckles (a.k.a. Kay Williams) and became stepfather to her two children, Joan and Adolph ("Bunker") Spreckels III.On November 16, 1959, Gable became a grandfather when Judy Lewis, his daughter with Loretta Young, gave birth to a daughter, Maria. In 1960, Gable's wife Kay discovered that she was expecting their first child. In early November 1960, he had just completed filming Misfits - Les Désaxés (1961), when he suffered a heart attack, and died later that month, on November 16, 1960. Gable was buried shortly afterwards in the shrine that he had built for Carole Lombard and her mother when they died, at Forest Lawn Cemetery.In March 1961, Kay Gable gave birth to a boy, whom she named John Clark Gable after his father.
Birthday

Feb 01, 1901

Place of Birth

Cadiz, Ohio, USA
Known For
Awards
4 wins & 6 nominations
Online Film & Television Association
2005
Acting
Winner
- OFTA Film Hall of Fame
Golden Boot Awards
2001
The award was accepted by Clark Gable's son, Clark Gable III.
Winner
- Centennial Award