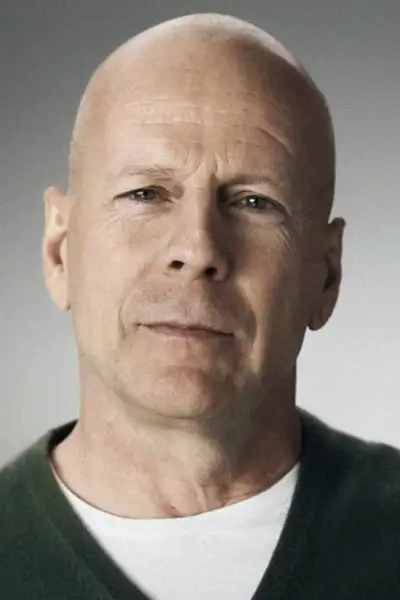 Bruce Willis
actor, producer, writer
Bruce Willis was born on Mar 19, 1955 in West Germany. Bruce Willis's big-screen debut came with The First Deadly Sin directed by Brian G. Hutton in 1980, strarring Man Entering Diner as Delaney Leaves (uncredited). Bruce Willis is known for Split directed by M. Night Shyamalan, James McAvoy stars as Dennis and Anya Taylor-Joy as Casey Cooke. Bruce Willis has got 21 awards and 52 nominations so far. The most recent award Bruce Willis achieved is Central Ohio Film Critics Association. The upcoming new movie Bruce Willis plays is Detective Knight: Independence which will be released on Jan 20, 2023.
Actor and musician Bruce Willis is well known for playing wisecracking or hard-edged characters, often in spectacular action films. Collectively, he has appeared in films that have grossed in excess of $2.5 billion USD.Walter Bruce Willis was born on March 19, 1955, in Idar-Oberstein, West Germany, to a German mother, Marlene Kassel, and an American father, David Andrew Willis (from Carneys Point, New Jersey), who were then living on a United States military base. His family moved to the U.S. shortly after he was born, and he was raised in Penns Grove, New Jersey, where his mother worked at a bank and his father was a welder and factory worker. Willis picked up an interest for the dramatic arts in high school, and was allegedly "discovered" whilst working in a café in New York City and then appeared in a couple of off-Broadway productions. While bartending one night, he was seen by a casting director who liked his personality and needed a bartender for a small movie role.After countless auditions, Willis contributed minor film appearances, usually uncredited, before landing the role of private eye "David Addison" alongside sultry Cybill Shepherd in the hit romantic comedy television series Clair de lune (1985). His sarcastic and wisecracking P.I. is seen by some as a dry run for the role of hard-boiled NYC detective "John McClane" in the monster hit Piège de cristal (1988), in which Willis' character single-handedly battled a gang of ruthless international thieves in a Los Angeles skyscraper. He reprised the role of McClane in the sequel, 58 minutes pour vivre (1990), set at a snowbound Washington's Dulles International Airport as a group of renegade Special Forces soldiers seek to repatriate a corrupt South American general. Excellent box office returns demanded a further sequel Une journée en enfer - Die Hard 3 (1995), this time co-starring Samuel L. Jackson as a cynical Harlem shop owner unwittingly thrust into assisting McClane during a terrorist bombing campaign on a sweltering day in New York.Willis found time out from all the action mayhem to provide the voice of "Mikey" the baby in the very popular family comedies Allô maman, ici bébé! (1989), and its sequel Allô maman, c'est encore moi (1990) also starring John Travolta and Kirstie Alley. Over the next decade, Willis starred in some very successful films, some very offbeat films and some unfortunate box office flops. Le bûcher des vanités (1990) and Hudson Hawk, gentleman et cambrioleur (1991) were both large scale financial disasters that were savaged by the critics, and both are arguably best left off the CVs of all the actors involved, however Willis was still popular with movie audiences and selling plenty of theatre tickets with the hyper-violent Le dernier samaritain (1991), the darkly humored La mort vous va si bien (1992) and the mediocre police thriller Piège en eaux troubles (1993).During the 1990s, Willis also appeared in several independent and low budget productions that won him new fans and praise from the critics for his intriguing performances working with some very diverse film directors. He appeared in the oddly appealing L'irrésistible North (1994), as a cagey prizefighter in the Quentin Tarantino directed mega-hit Pulp Fiction (1994), the Terry Gilliam directed apocalyptic thriller L'Armée des 12 singes (1995), the Luc Besson directed sci-fi opus Le cinquième élément (1997) and the M. Night Shyamalan directed spine-tingling epic Sixième sens (1999).Willis next starred in the gangster comedy Mon voisin le tueur (2000), worked again with "hot" director M. Night Shyamalan in the less than gripping Incassable (2000), and in two military dramas, Mission évasion (2002) and Les larmes du soleil (2003) that both failed to really fire with movie audiences or critics alike. However, Willis bounced back into the spotlight in the critically applauded Frank Miller graphic novel turned movie Sin City (2005), the voice of "RJ" the scheming raccoon in the animated hit Nos voisins, les hommes (2006) and "Die Hard" fans rejoiced to see "John McClane" return to the big screen in the high tech Die Hard 4 : Retour en enfer (2007) aka "Die Hard 4.0".Willis was married to actress Demi Moore for approximately thirteen years and they share custody to their three daughters.
Birthday

Mar 19, 1955

Place of Birth

Idar-Oberstein, West Germany

Also known

Μπρους Γουίλις, 布鲁斯·威利斯, ブルース・ウィリス, 브루스 윌리스, บรูซ วิลลิส, Walter Bruce Willis, Bruno, Γουόλτερ Μπρους Γουίλις, Брюс Вілліс, Брюс Уиллис, بروس ويليس, ברוס וויליס
Known For
Awards
21 wins & 52 nominations
Central Ohio Film Critics Association
Order of Arts and Letters, France
2013
On February 10, 2013.
Winner
- Commander of the Order of Arts and Letters
2023

3.4

2022

4.8

2022

3.6

2022

3.8

2022

3.6

2022

3.5

2022

4.5

2022

3.7

2022

4.3

2022

2.8

2022

actor

as Police Chief Alston

3.5

2022

actor

as Detective Bill Freeman

3.9

2021

3.4

2021

3.2

2021

3.5

2021

3.0

2021

3.1

2021

3.3

2021

4.5

2021

2.5

2020

3.0

2020

3.3

2020

4.1

2019

4.1

2019

3.6

2019

6.1

2019

6.8

2019

6.6

2019

6.6

2018

3.2

2018

4.3

2018

6.3

2018

actor

as Detective James Avery

5.3

2017

5.0

2017

5.3

2016

actor

as David Dunn (uncredited)

7.3

2016

5.5

2016

4.6

2015

4.1

2015

5.5

2015

4.2

2014

4.6

2014

6.5

2013

6.6

2013

actor

as General Joe Colton

5.7

2013

5.2

2012

5.6

2012

7.4

2012

6.6

2012

7.8

2012

4.9

2012

4.8

2011

4.6

2011

4.4

2010

7.0

2010

actor

as Mr. Church (uncredited)

6.4

2010

5.5

2009

6.3

2008

6.2

2007

actor

as Bruce (uncredited)

5.9

2007

7.1

2007

5.7

2007

7.1

2007

actor

as Muldoon (segment "Planet Terror")

7.5

2006

6.2

2006

actor

as Col. Doug Masterson (uncredited)

6.3

2006

6.3

2006

6.7

2006

6.6

2006

7.7

2006

6.9

2005

8.0

2005

actor, producer

as Jeff Talley

6.5

2004

actor

as Bruce Willis (uncredited)

6.5

2004

5.4

2003

4.9

2003

5.5

2003

actor

as Lieutenant A.K. Waters

6.6

2002

5.7

2002

4.2

2002

actor

as Col. William A. McNamara

6.3

2002

5.4

2001

6.5

2000

7.3

2000

6.1

2000

6.7

1999

6.0

1999

8.2

1999

4.5

1998

actor

as General William Devereaux

6.4

1998

actor

as Korben Dallas (voice)

7.6

1998

actor

as Harry S. Stamper

6.7

1998

6.1

1997

6.4

1997

7.6

1996

6.8

1996

6.4

1995

8.0

1995

actor

as Leo (segment "The Man from Hollywood") (uncredited)

6.7

1995

7.6

1994

7.3

1994

4.5

1994

8.9

1994

5.2

1993

5.8

1993

actor

as Man Whose Caravan Is Attacked (uncredited)

6.2

1992

actor

as Dr. Ernest Menville

6.6

1992

7.5

1991

actor, writer

as Hudson Hawk

5.7

1991

7.0

1991

5.9

1991

5.7

1990

5.6

1990

4.6

1990

7.1

1989

5.9

1989

5.8

1988

8.2

1988

5.7

1988

actor

as David Addison Jr. / Baby Hayes / Pertrucio

7.6

1987

writer, actor, producer

as Bruno Radolini

6.0

1987

5.9

1987

actor

as David Addison Jr. / Baby Hayes / Pertrucio

7.6

1986

actor

as David Addison Jr. / Baby Hayes / Pertrucio

7.6

1985

actor

as David Addison Jr. / Baby Hayes / Pertrucio

7.6

1985

actor

as David Addison Jr. / Baby Hayes / Pertrucio

7.6

1982

actor

as Courtroom Observer (uncredited)

7.7

1980

actor

as Extra -Sarastrojünger (uncredited)

6.0

1980

actor

as Man Entering Diner as Delaney Leaves (uncredited)

5.9